A Malory Towers for big bad girls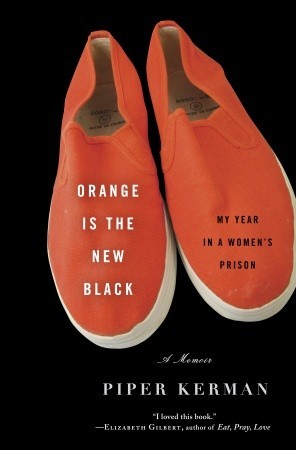 There are some TV shows that I blank out on. Like when the whole world was raving about Breaking Bad, I didn't give a damn. Same thing happened with Orange is The New Black. I just didn't get it, and since I'm not one who watches shows online, I didn't bother to keep up with the hype. On a flight last month, I caught a couple of episodes and was intrigued. But I realized that this show will never see the light of day in India. In a country where the word 'beef' is beeped out and cleavage is pixellated, I won't expect a show with topless transgenders and dialogues with the C word to make an entry. And so I picked up the book instead.
Piper Kerman writes like she's an observer from the outside, not like the convicted felon that she actually was. She writes like the white-blonde-college-educated-woman-from-a-privileged-background that she is rather than the convicted-drugmoney-carrying-lesbian-lover-of-the-drug-trafficker  that she was. And so it somehow came out shallow and patronizing all the way rather than being a heartfelt prison memoir that I wanted it to be. Ofcourse, the book is the true story and the TV series is a fictionalized version, but the blandness of the book bored me. Maybe  I expected something atleast like Tracy's experiences in If Tomorrow Comes.
There were too many characters who came and went, I couldn't keep track of who was whom. Who was in for what was never explained. Yes, it is not likely that she could have known, but it just left me hanging. I couldn't feel anything for any prisoner. Everyone was described at surface level only.  It was all about commissary goods being bartered, goodies being sent by friends, books, radios, yoga, trade school and some Larry love. Blue skies and lollipops. Boarding school. Bo.Ring. Even the 'horrors'of the camp she was sent to towards the end weren't hard hitting. And since I'm a person who likes closure, I would have loved to read an epilogue, something about whether she connected with her fellow prisoners after she left or what happened to some of them. Even Girl, Interrupted had an epilogue that told us what happened to Lisa. Would have been nice to know if Piper is still in touch with the Miss Natalie, Pop or Yoga Janet now.
On my flights last week I managed to stay awake most of the time to finish watching the entire Season 1 of the TV show. Absolutely loved it. Watch the show. Skip the book.
Unrelated: Tamil Actress Kausalya and Taylor Schilling seem kind of sameguy.